Type Rating is a well-known term in the aviation industry and is a must if you plan to fly as a commercial pilot. It is training for certain aircraft, such as Airbus A320, A380, Boeing 737, 767, or others, intended for those with a commercial pilot license.
This certification ensures that the type rated pilot has the knowledge necessary to fly an airplane and knows how each system works so they can effectively deal with any potential issues on board.
Is Type Rating necessary?
Simpler aircraft do not require a Type Rating but complex aircraft used by airlines do. It is impossible to become a First Officer and enter commercial operations without a Type Rating.
What does the Type Rating cost?
The price of a Type Rating varies depending on the specific aircraft type and the organization where you conduct it. To give you a rough idea, a Type Rating for Boeing 737 can cost from 16 000 EUR to 34 000 EUR.
However, please note the lowest price does not guarantee the highest quality. Therefore, the pricing should not be the only factor you base your decision on which Type Rating to choose and where to complete it.
Is it only simulator flight training?
Just like initial pilot training (ATPL Integrated, CPL Modular, or other) consists of ground school and practice, so does any Type Rating course.
You will learn the aircraft systems and performance during the theory phase and have to pass a final exam. As for the practice, it is done in full flight simulators (full motion simulators), the most realistic replicas of a real airplane's flight deck. After you master the simulator, you will have to complete a skill test.
Something to keep in mind is that simulator training is performed in crews of 2 pilots. But don't worry if you don't have a partner interested in the same course – we will arrange one for you.
How many days does a Type Rating take?
The number of hours/days may differ insignificantly from one ATO to another. At BAA Training, you can expect to finish your Type Rating in 29-36 days, depending on the precise Type Rating you are going to attain.
What is the validity of Type Ratings?
Your own Type Rating is going to be valid for one year.
If your Type Rating is yet to expire, but you want to extend it, you will have to revalidate it by completing a proficiency check with a qualified examiner.
However, if it has expired, you will have to activate it again by doing a Renewal course with the ATO of your choice.
Can one Type Rating cover multiple aircraft types?
Different aircraft types have many differences in operation and handling performance. A pilot trained to fly the Boeing 737 cannot immediately start flying the Airbus A320. For that, a separate Type Rating endorsement is necessary.
However, some aircraft types are similar performance-wise, so handling them is pretty much the same.
Boeing narrowbody aircraft – the 737 family
For example, it only takes a single Type Rating to fly every 737 version of Boeing. If you go for B737 CL Type Rating, you will be authorized to fly B737 CL (-300/400/500), while B737 NG Type Rating prepares you for flying B737 NG versions (-600/700/800/900).
Completing a Difference course is sufficient for jumping from B737 CL to B737 NG, from B737 NG to B737 MAX, and so on.
Your
PILOT CAREER
starts with a first click
Sign up now
Airbus narrowbody aircraft – the A320 family
The Airbus A320 family includes the A318, A319, A320, A321 and the ACJ business jet. As they have similar flight decks, only one Type Rating is required to fly these Airbus aircraft.
However, to transition from the A320 family to A330, for example, Airbus has a Cross Crew Qualification (CCQ), which refers to a reduced Type Rating course that gives credit for the technical similarities and common operational procedures.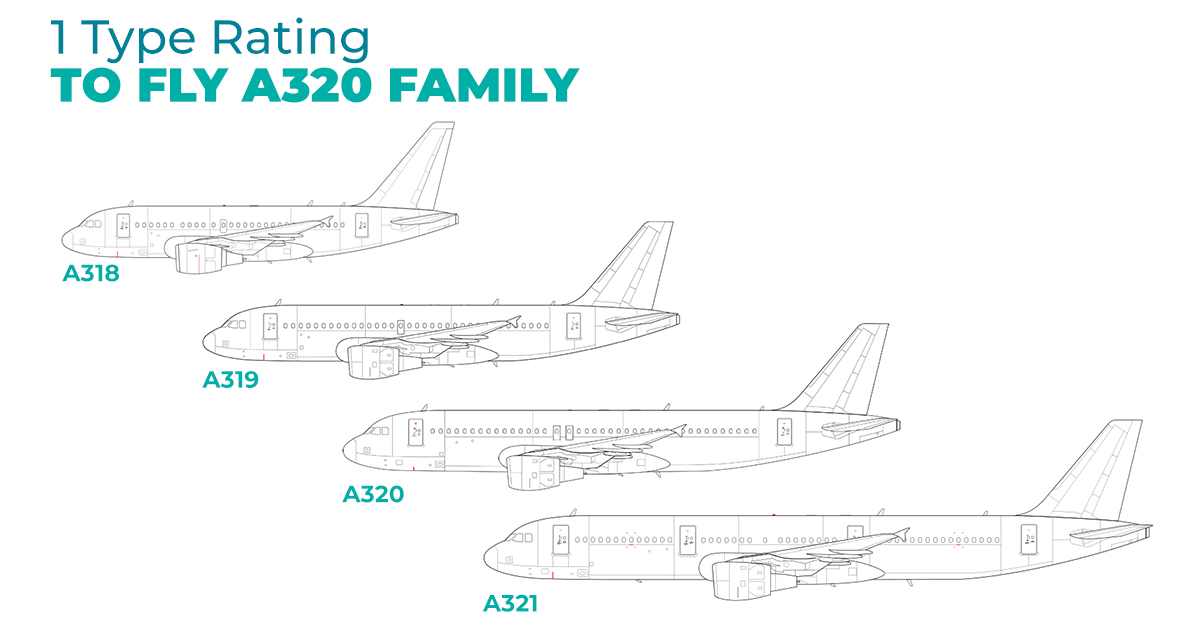 How many Type Ratings can a pilot have?
There's no limit to the number of Type Ratings a pilot can hold. You could, in theory, learn to handle all aircraft types! However, EASA does not allow one pilot in commercial operations to use more than two at any given time. FAA has similar rules.
What Type Rating training does BAA Training offer?
BAA Training offers A320, B737 CL, B737 NG and B737 MAX Type Rating courses and their renewals, revalidations, Boeing Difference courses and the abovementioned A320 CCQ training. Depending on the simulator type in question, you can receive training in Lithuania, Spain or Vietnam.
Besides that, we can offer a Type Rating for Embraer, ATR, Bombardier and more (16 aircraft types in total) through our extensive partnership network in 29 locations globally.
BAA Training will help you achieve your target
Do not hesitate to contact us if you are searching for an approved Type Rating training organization (TRTO). Our standardized and fully competent instructors will help you achieve your next target quickly and effectively and become fully proficient new pilots ready to enter the job market and start flying for airlines.