We interviewed someone with firsthand experience and insights about this type – Alexandre Domagata, a Captain and Type Rating Instructor (TRI) for the private jet Embraer ERJ-145 (but his expertise goes beyond that and will be mentioned later in the article!).
Embraer 135/145 Type Rating: Operate More Than One Aircraft Type
To start with, an Embraer ERJ-145 is a versatile regional aircraft with a commonly used 50 seat configuration, often used for regional flights. It facilitates connections to regional airports, contributes to economic development, and primarily supports business travel passengers.
The good news is that a pilot holding an Embraer ERJ-135/145 Type Rating, in addition to Embraer ERJ-145, can also operate ERJ-140, ERJ-135, or Embraer Legacy 600. Investing in a Type Rating that allows one to fly multiple aircraft within the same family is a strategic move that can open new horizons for you.
In a way, it's similar to diversifying an investment portfolio – spreading risk by investing in various stocks from different industries. While not a direct analogy, think of it this way: if opportunities to fly the Embraer ERJ-145 disappear due to one or another reason, you can apply for one of the abovementioned aircraft, minimizing the risk of being left out of work.
Alexandre Domagata emphasizes, "The Embraer Legacy 600 shares the same Type Rating as the Embraer ERJ-145, enabling pilots to pursue multiple career paths with a single Type Rating. It is indeed highly advantageous for pilot employability!"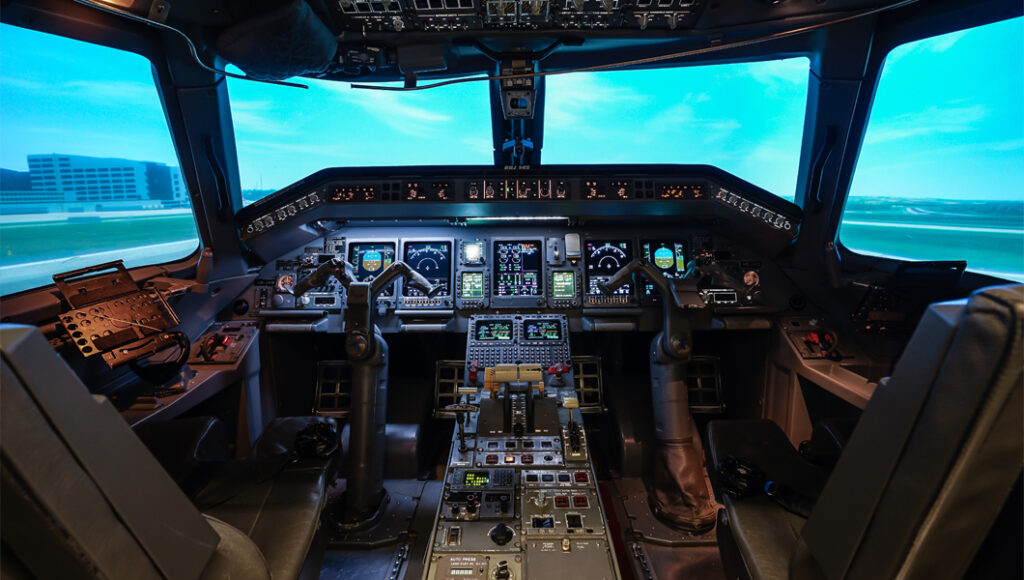 Embraer 170/190 Type Rating: Smooth Transition to the Modern E2
The E-jet series, Embraer 170, Embraer 175, Embraer 190, and Embraer 195, are also widely utilized. These types are favorites of major airlines and regional feeder carriers – connecting passengers from smaller locales to major airports.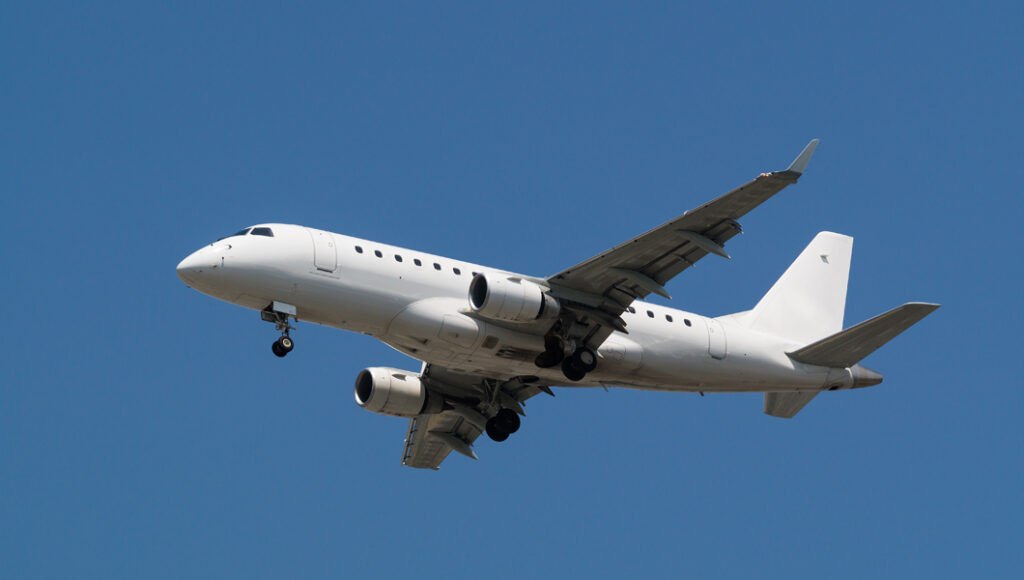 Some Embraer customers who have had them in their fleet are Air France Hop, KLM Cityhopper, Swiss regional airline Helvetic Airways, Republic Airways, Air Canada, American Airlines, United Airlines, etc.
It is important to note that the Embraer 170/190 Type Rating allows the operation of the E-Jet series and can potentially pave the way to acquiring the most modern Type Rating for the E2 versions Embraer launched in 2013.
The E2 series – the new next-generation Embraer family
The E2 series, including the E190-E2, E195-E2, and E175-E2, are the next generation of Embraer's successful E-Jet family, offering enhanced performance, efficiency, and passenger comfort compared to their predecessors. They have premium cabins, reduced fuel consumption, better engine performance (supported by authority digital engine control), improved aerodynamic efficiency because of new wingtips, enhanced flight controls, more seats, and more.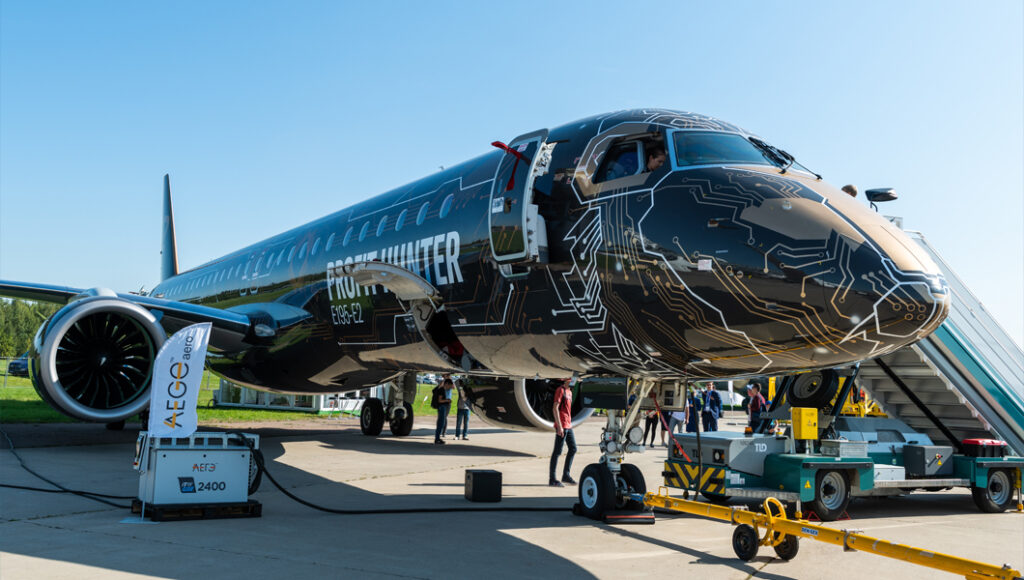 Alexandre suggests, "Starting with the Embraer 170/190 Type Rating is a good idea to ensure a potential transition to the E2 family. Additional training, often called a 'differences course,' focuses on the specific changes and enhancements introduced in the E2 series. This acquisition is highly beneficial with advanced avionics and multiple job prospects."
Many airlines are actively switching to the E2. For instance, TUI has recently accepted three Embraer E195-E2s from AerCap on a long-term lease, and Porter Airlines' has placed an order of 20 Embraer E195-E2s to support its significant expansion plans (in addition to the existing order of 30).
Operating Embraer Aircraft: Challenging Yet Enjoyable
Let us get back to the professional experience of Alexandre Domagata. Surprisingly enough, not only does he have an Embraer ERJ-135/145 Type Rating, but also he works as a Senior First Officer on A330F in a cargo company. On top of that, he holds qualifications on A320, acts as a TRI and instructor for general aviation licenses, and examines and trains CPL and instructor candidates at France's largest aviation school.
Last but not least, he is a member of the major union SNPL, collaborates with the French CAA, and participates in workshops with EASA and ICAO.
Given his extensive and diverse experience, we were very curious to ask him to share his professional opinion about how the Embraer plane is different in operation compared to other types (from a pilot's perspective).
Your
PILOT CAREER
starts with a first click
Sign up now
"Embraer is primarily a regional jet, often involving low-altitude flying. These aircraft frequently handle numerous short sectors, which can pose challenges in adverse weather conditions and demand a lot from the flight and cabin crew. Due to their smaller size, these aircraft accommodate fewer seats and passengers," said Alexandre.
He added, "Operations sometimes extend to small regional airports, presenting fun and unique experiences for pilots and flight attendants. Confronting and overcoming these challenges contribute to pilots' growth and proficiency in their field."
Another point Alexandre highlighted that distinguishes a smaller Embraer plane from the Airbus A320 is that it is easier and faster to board. Why? Because Embraer planes feature built-in stairs on the doors, as their low height allows for easier and faster passenger boarding. It eliminates the need for a stair car and makes jetbridges unnecessary, unlike Airbus A320.
Summary
To sum up, aspiring pilots have more options than just choosing between Boeing and Airbus. Starting at a regional company often comes with established contracts with larger mainline carriers, offering greater long-term job stability compared to flights with smaller independent operators. Working for a regional airline, you will develop a well-rounded skillset by covering various routes, including short-haul/mid-range flights to regional and larger airports.
If you would like to find out more about an Embraer 145 or Embraer 170/190 Type Rating or you have questions about training for other aircraft types (such as Bombardier, ATR, for example), feel free to reach out to us, and we will be happy to advise and/or organize the training.
We are looking forward to helping you earn your wings!