In the increasingly competitive world of commercial aviation, more and more new pilots are getting a Type Rating as a part of their commercial flight training. After all, this makes them more attractive to potential employers, as they then instantly become employable by an airline. So it could be a deciding factor when it comes to applying for a job, and well worth the extra time and costs involved. 
But which Type Rating is best to choose? How can you decide which aircraft you should fly after getting a commercial pilot license from the huge number of existing ones that are used by the airlines?
A number of things need to be looked at here. Firstly, what aircraft types are the airlines primarily using? Next, how much will the training cost? And along with the upfront price, you should consider what other benefits are included in any Type Rating package offered by flying schools, such as job preparation courses or recommendations to particular airlines. Other things being equal, such perks might make quite a difference.
We will now take a look at all of these things…
Aircraft Used by Airlines: A320 and B737
Although there might seem to be many different aircraft, very few are mentioned repeatedly in any research, advertising, or other literature. Two aircraft types – Airbus 320 and Boeing 737 – are used extensively by most operators. So it follows that these are probably the best Type Ratings to get if you do not have a particular job in mind, as they will give you the most flexibility when it comes to job searching.
These Type Ratings allow you to fly several aircraft types rather than just one. The Airbus A320 Type Rating will let you fly multiple aircraft within the A320 family (the A318, A319, Airbus A320, A321 and the ACJ business jet aircraft) as they have the same cockpit. Similarly, a Boeing 737 Type Rating allows you to fly several 737 versions with a common Type Rating.
So if you get either of these Type Ratings to pursue your flying career, or perhaps even both, you will, in fact, be qualified to fly a very wide variety of airplanes. It makes the whole idea of choosing one or two Type Ratings seem less daunting (there is no limit to how many Type Ratings you can have!).
Aircraft Used by Airlines: Embraer and Bombardier
However, it should be noted that these are not the only aircraft used extensively in the market. Embraer aircraft are increasingly popular, partly due to their quietness, making them attractive to passengers. However, most Embraer types have a short range, so they are used by smaller and regional airlines. But this could still be a Type Rating worth considering.
The Bombardier Type Rating is similar in many respects; although the aircraft is used mainly by smaller airlines, there may be less competition when looking for a job. It could be another Type Rating worth thinking about.
Among those flying Embraer and Bombardier aircraft are Lufthansa, Air France, and International Airlines Group (IAG). Thus, we are not talking about unknown names here!
Which Airlines Use Boeing 737 and Which Airbus 320 family?
If you are still wondering which Type Rating to choose, it is helpful to know which carriers use the Boeing 737 and which use the Airbus 320.
It would be impractical to list all the carriers in the world using each of these types, as there are a massive number of them! But here are the "Top 10" for each, i.e., those with the largest fleets of each aircraft type…
Of course, some of them use both of these types, as you can see from the fact that some names are on both Top 10 lists!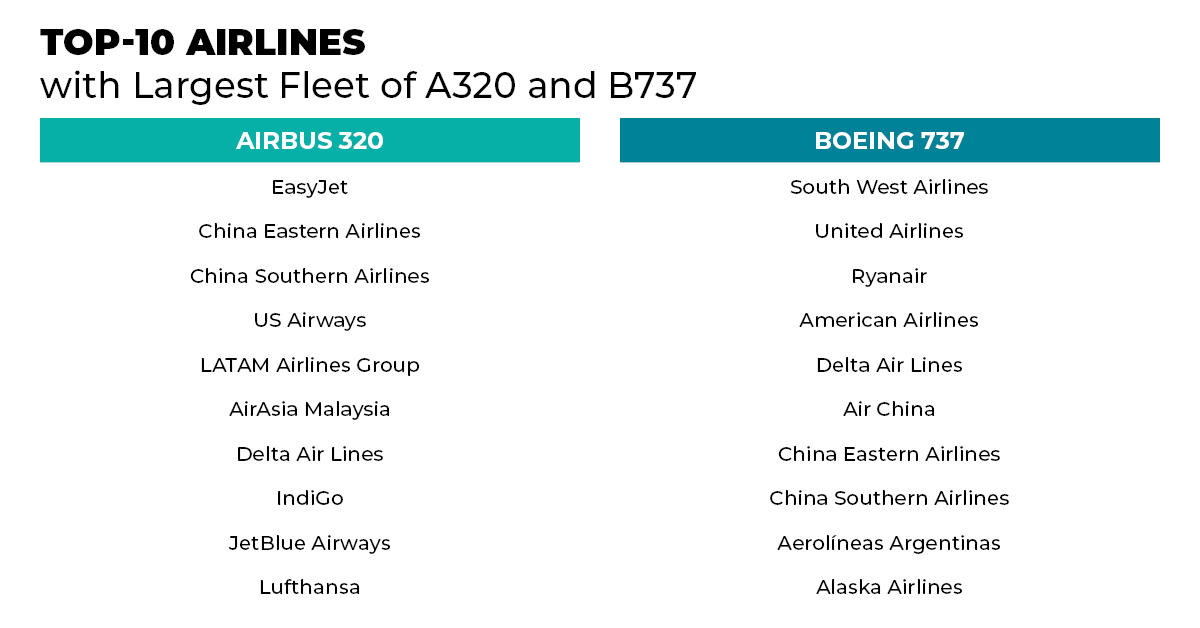 Boeing 737 MAX
It is worth noting that, after a slump in sales following two well-publicized unfortunate accidents, the Boeing 737 MAX is now becoming increasingly popular with airlines. The year 2022 is seen as a recovery year for the type, with a substantial order from United Airlines and several other large orders from other customers. Other users are South West Airlines, Ryanair, American Airlines, Aeromexico, and Air Canada. Indeed, deliveries of the 737 MAX now comprise a large proportion of Boeing's sales and are a major part of its revenue from commercial customers.
Your
PILOT CAREER
starts with a first click
Sign up now
The 737 MAX has now had many safe flying hours and is generally accepted as a safe aircraft. We can expect to see it used more and more as time goes on, particularly by those airlines that tend to use Boeing narrowbody aircraft anyway. This being said, you may want to become a Boeing 737 MAX commercial pilot. It can be your first-ever Type Rating or a separate Type Rating in addition to the ones you already have.
Type Rating Training Costs
Type Rating costs vary greatly from country to country and school to school. At BAA Training, the cost of an Airbus A320 and B737 Type Rating starts from 14 000 EUR. But you need to keep in mind that price is not the only factor to be considered; the quality of the training and the reputation of the training provider is equally important, if not more so.
Type Rating Training Benefits
With the above in mind, consider what exactly is offered as part of the Type Rating course. For instance, BAA Training offers a job interview preparation course at no additional cost and has a list of partner airlines to which we often recommend our best students. While not essential, such benefits could make a tremendous difference when it comes to getting that elusive first airline job!
Needless to say, brand-new full flight simulators, other training equipment, and highly qualified instructors to lead you through the ground school and flight training is a must when it comes to what a training organization should provide you with! At BAA Training, we have instructors who are also airline pilots (some are senior pilots!), so they know aviation inside and out: aircraft type ratings, class ratings, aircraft systems, flight safety, handling performance, flight management systems, and much more. So they will definitely help you succeed in your pilot training and score well in your practical test.
Summary
Finally, it must be emphasized that most of the world's companies use either Boeing or Airbus aircraft, sometimes almost to the exclusion of others. So usually pilots choose either the Airbus A320 or Boeing 737 Type Rating. Unless you have a good reason to choose another aircraft, getting your Type Rating for one or both of these is probably your best course of action.
And then… good luck with your job hunt as a First Officer! Your first flight in the new role will be something else…