How is the aviation market size estimated?
As you can probably guess, it's not a couple of simple criteria that are taken into account when giving a general evaluation of the country's aviation market size. Many factors affect countries moving up or down the ratings list. The number of airlines and airports within a country, the level of tourism, and how well a country adopts technological advancements all drive aviation growth. Still, among others, some are considered the most critical.
Passenger traffic
The reported passenger traffic number in the fiscal year 2023 (April 1, 2022, to March 31, 2023) is 327.28 million as opposed to 188.89 million in fiscal year 2022 (April 1, 2021, to March 31, 2022). It is a strong indication that the Indian aviation industry has recovered from the impact of the COVID-19 pandemic and is ready to create some competition for other giants. Although domestic air travel in India dominates the market, international travel is also rising, especially with the increasing global connectivity and a growing interest in traveling overseas.
Population
India has one of the largest youngest populations in the world, which has a greater propensity to travel by air. The current median Indian age is 28, compared to China's and USA's 39. Another interesting fact is that India has surpassed China this year based on total population. "State of World Population Report, 2023" by the United Nations Population Fund (UNFPA) reveals that 1.4286 billion people live in India against 1.4257 billion in China.
Revenue Passenger Kilometers (RPK)
Another helpful metric is the Revenue Passenger Kilometers (RPK), which measures the total passenger traffic flown by an airline (or all country's airlines) during a specific period, usually expressed in kilometers. Compared to March 2022, international RPKs for the Asian Pacific region were up 283% in March 2023. Besides PRK, the Passenger Load Factor (PLF), the rate of utilization of all country's airline's passenger-carrying capacity, plays a role in the recovery of the domestic aviation market. India was the top domestic market with PLFs of 81.6% in Feb 2023 and 85.2% in Jan 2023.
Economic factors
Some economic factors, such as high GDP and rising disposable income of middle and high-income households, also contribute to the boost of Indian aviation. In 2023, the country is ranked 5th worldwide, with a GDP of 3,73 (USD billion) and an annual growth rate of 5.9%. While the USA and China are topping the list, their GDP growth is less drastic: 1.6% and 5.2% respectively.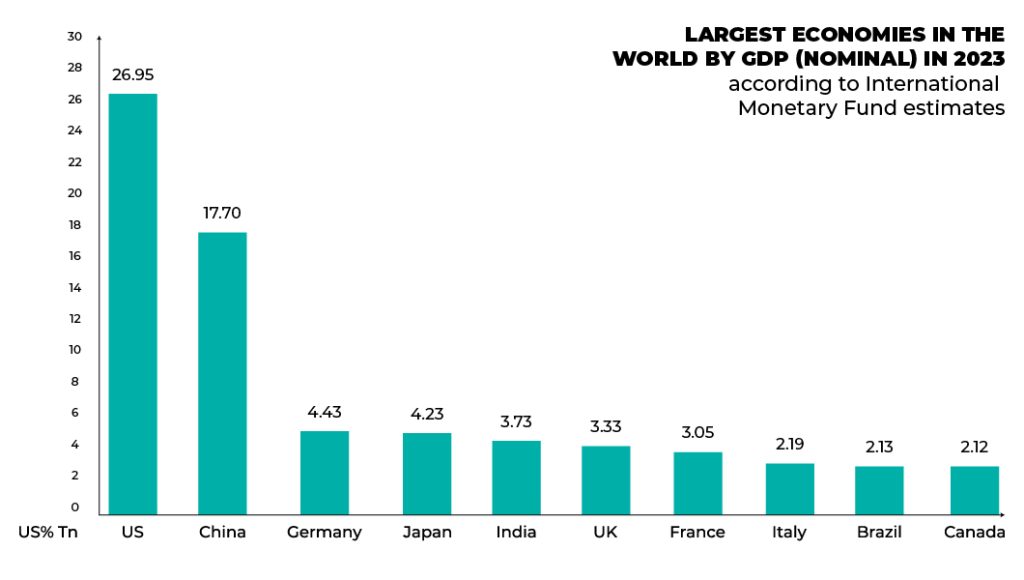 Regulatory environment
In the last eight years, the number of airports in the country has increased from 74 to 141, and over the next five years, around 80 new airports are expected to be opened. Prime Minister Narendra Modi's government said this year that the South Asian nation would spend 980 billion rupees ($11.88 billion) by 2025 to boost regional connectivity by constructing airports and modernizing existing ones.
Fleet
China's total fleet is almost five times the existing Indian fleet (800-900 aircraft in India while around 4,500 in China) despite an almost equal population. However, the situation in this respect is shaping. The privatization of Indian airlines and the emergence of new ones are massive driving forces for aviation.
Air India Order
In January 2022, the Indian government sold Air India along with its subsidiary Air India Express to the Tata Group. Shortly after, Air India order became the biggest order in India's aviation history – 470 aircraft. The ambitious fleet renewal comprises 34 A350-1000s, 6 A350-900s, 20 B787 Dreamliners, 10 B777Xs, 140 Airbus A320neo, 70 Airbus A321neo and 190 fuel efficient aircraft Boeing 737 MAX.
"Our ambitious fleet renewal and expansion programme will see Air India operate the most advanced and fuel-efficient aircraft across our route network within five years. We are proud to be working with all our partners in this journey to rebuild a global airline which reflects India taking a more confident posture around the world," said Campbell Wilson, CEO & MD of Air India.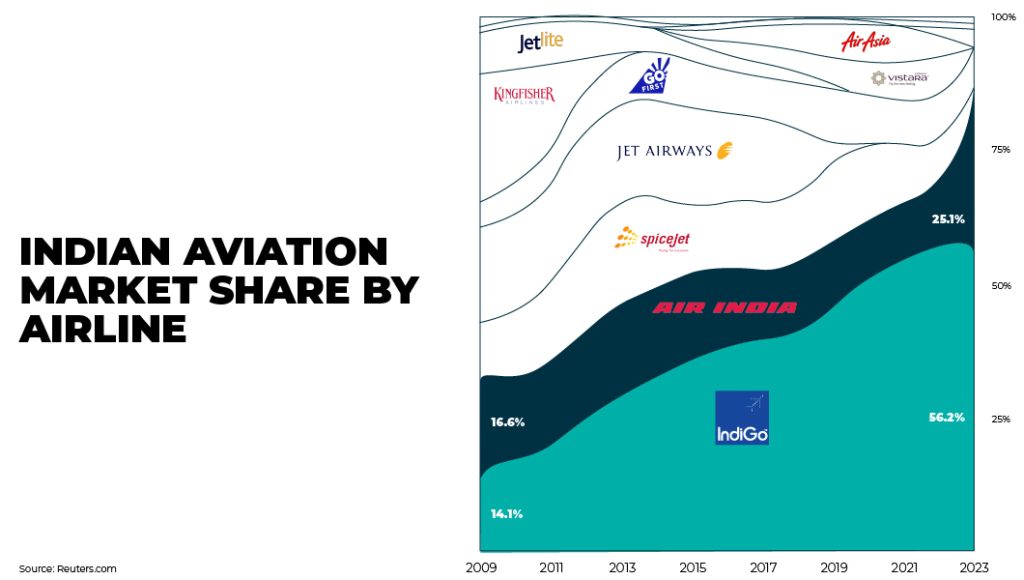 Akasa Air Order
Budget carrier Akasa Air started commercial operations in August last year. In just 10 months, its market share grew from 0.2% to 4.8%. Surprisingly enough, being a startup airline, Akasa Air has pursued fleet and network expansion and already booked 76 jets: 23 B737-8s and 53 high-capacity B737-8-200!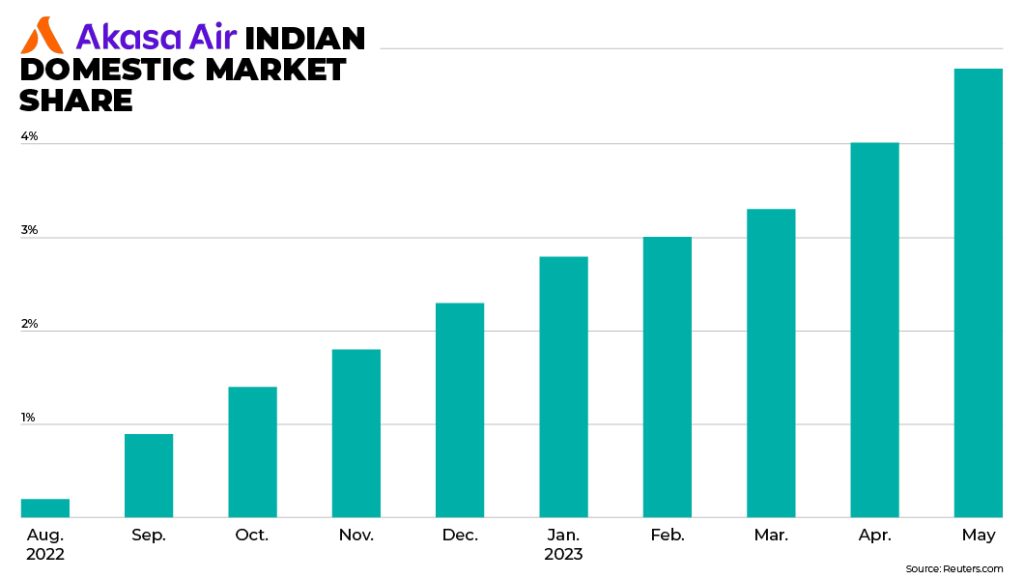 Together, Air India, IndiGo, Akasa Air, Go First and Vistara have purchase agreements for at least 1,115 planes on order.
Your
PILOT CAREER
starts with a first click
Sign up now
Opportunities for Indians who want to become pilots
In the context of Indian aviation growth, with airlines ordering more aircraft and the government creating the infrastructure for aviation to prosper, it becomes evident that more commercial aviation pilots will be needed to meet passenger demand.
Indian Pilot Cadet Program with Job Assistance
The cost of the training, however, is commonly viewed as the main barrier to entering the profession. BAA Training has partnered with several leading Indian banks and launched an Indian cadet program with up to 100% financing possibility to make acquiring this profession more affordable for Indians. It means that a large upfront payment is not needed. Instead, a potential student must only pass the BAA Training entry exam, get a "Letter of Intent" from us, and present it to the bank for loan issuance. The loan repayment will only start once the graduate is employed by an airline.
But how does one ensure employment? BAA Training will help in this regard, too, as the Indian cadet program includes job assistance.
Conclusion
India's aviation industry is experiencing robust airline business growth and showing significant promise to become the largest market in the future. While the United States and China still leave it behind, forecasts from organizations like IATA suggest that it could surpass them by 2030. Strategic government initiatives, a growing number of airlines, their fleet, airports, young population, high GDP, and many more factors show a lot of potential waiting to be used.