Causes of Pilot Shortage
Industry officials warned that airline pilot shortage is a complex issue with multiple contributing factors.
Increased Air Travel Demand
The rapid growth in global air travel has led to a surge in demand for pilots. As emerging economies flourish and more people have the means to fly, airlines are expanding their fleets and routes, intensifying the necessity to hire qualified pilots.
To give a couple of examples, Wizz Air alone has announced that it will have over 200 aircraft by the end of 2023, while Turkish Airlines expects to expand its fleet to 235 airline jets this year and be operating over 800 by 2033.
Aging Workforce
A substantial portion of the pilot population is reaching the mandatory retirement age. Many experienced pilots from the baby boomer generation are leaving the industry, creating a significant gap that needs to be filled with new pilots.
In the United States, nearly 50% of the commercial airline workforce will retire in the next 15 years, which could mean fewer travel options and price increases.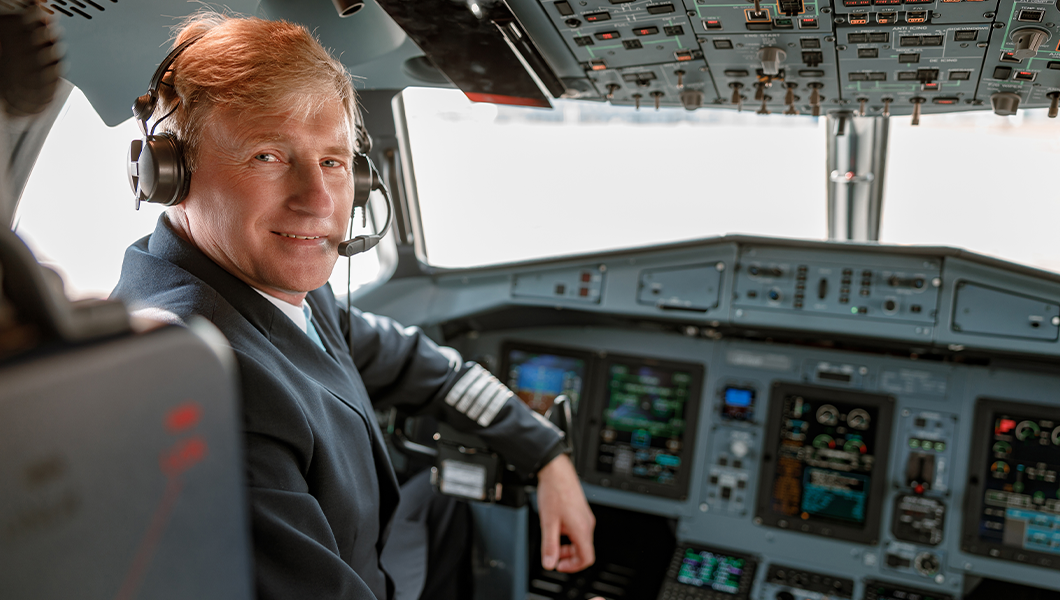 Stringent Training and Certification Requirements
The rigorous training and certification processes that pilots must undergo contribute to the ongoing issue. Meeting these standards set by regulatory bodies, airlines and pilot schools requires significant time and financial investments, thus preventing potential candidates from pursuing a career as a pilot.
For many, the cost of pilot training is a serious barrier. According to EASA, a CPL with Type Rating may reach €100,000 (more information in this article). For others, it may be hard to dedicate the necessary time to pilot training. The third might have medical conditions, so they cannot get accepted to start pilot training.
Attractive Alternatives
Airline pilots face competition from other industries that offer attractive career paths and work-life balance. The demanding nature of pilot training, irregular schedules, and time away from home make other professions appealing to individuals seeking stability and predictability. However, in fact, some pilots may find strategies to manage their schedules and find a better balance.
Some airlines are often mentioned for their positive work-life balance initiatives by pilot unions, encouraging pilots to consider working for them. Some of these are KLM Royal Dutch Airlines, Lufthansa, etc.
Impacted Regions
The pilot shortage is experienced globally, but some regions bear a heavier brunt.
North America
North America, particularly the United States, has been heavily impacted. Major airlines, such as Southwest Airlines, Alaska Airlines, North American Airlines, etc., have been actively hiring pilots, while regional carriers struggle to find sufficient personnel to operate their flights.
Oliver Wyman expects that by 2032, the gap between the pilot demand and supply will be 17,000, or 15% of the workforce, which is about where it will stand this year and next. The aviation industry in this region needs more workers in many job categories, such as air traffic controllers, flight attendants and ground crew.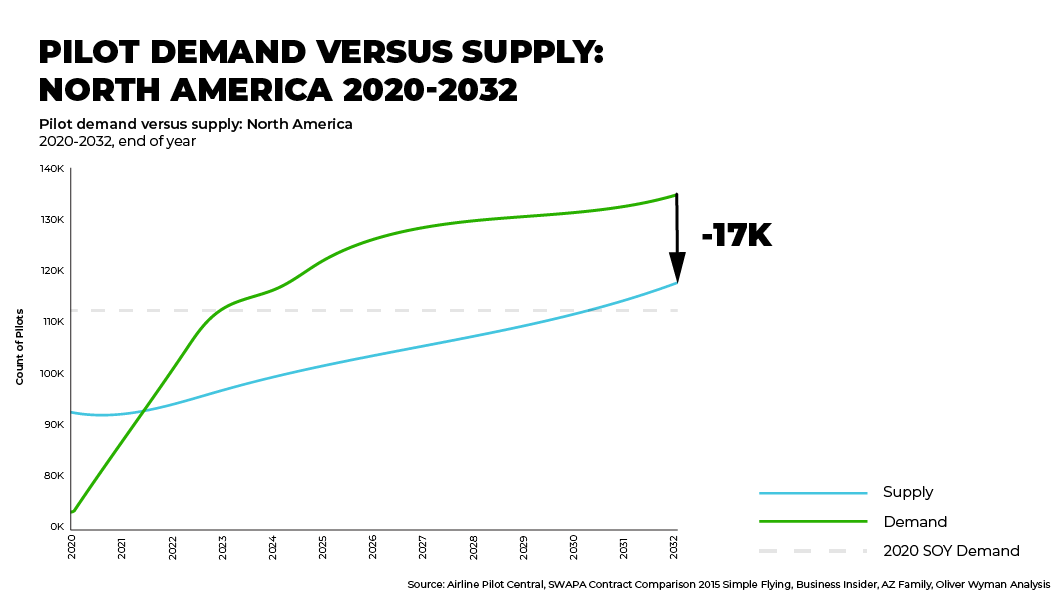 Asia-Pacific
The rapid expansion of air travel in the Asia-Pacific region, driven by the growth of economies such as China and India, has created a substantial demand for pilots. The insufficiency is particularly acute in this region, with airlines facing challenges recruiting and retaining qualified pilots.
According to industry sources, some airlines in India alone will require close to 7,000 pilots to operate around 500 aircraft supplied in coming years.
Middle East
The Middle East, renowned for its flourishing airline industry, has also been experiencing a shortage of pilots. The expansion of airlines and the establishment of new carriers in the region have strained the pilot supply, leading to increased competition for qualified individuals.
As the data collected by Oliver Wyman, a global management consulting firm, suggests, the region could face a shortage of 18,000 by 2032.
Europe
Although other regions require new pilots more urgently than Europe, the problem is still there, and it will gain momentum towards the end of 2024 into 2025, according to the interview by Airways Magazine with Geoff Murray, a partner at Oliver Wyman's global aerospace sector team in April this year.
Opportunities for Aspiring Pilots
Despite the challenges posed to air service by the pilot shortage, it opens up promising opportunities for future pilots.
Increased Hiring
Your
PILOT CAREER
starts with a first click
Sign up now
Airlines are actively seeking to address the pilot shortage by expanding their recruitment efforts. This has created a favorable environment for those who dream of a pilot career as more job openings become available in both regional airlines and major airlines.
Currently, many European airlines, such as Avion Express, Wizz Air, KlasJet, Air Belgium, and more, are advertising their pilot calls on https://www.aviationcv.com/.
Training Programs
Aviation training flight schools and academies have recognized the demand for more pilots and have responded by offering comprehensive own training programs allowing them to obtain airline pilot licenses. These programs provide future pilots with the necessary skills and certifications required to enter the industry, easing the path to becoming a pilot flying airline jets.
For instance, one of the recently launched courses by BAA Training is a BAA Training cadet program that accepts students starting from zero and finishing up as First Officers. The uniqueness of this program is that pilots get a job guarantee at one of the airline partners BAA Training has strong relationships with.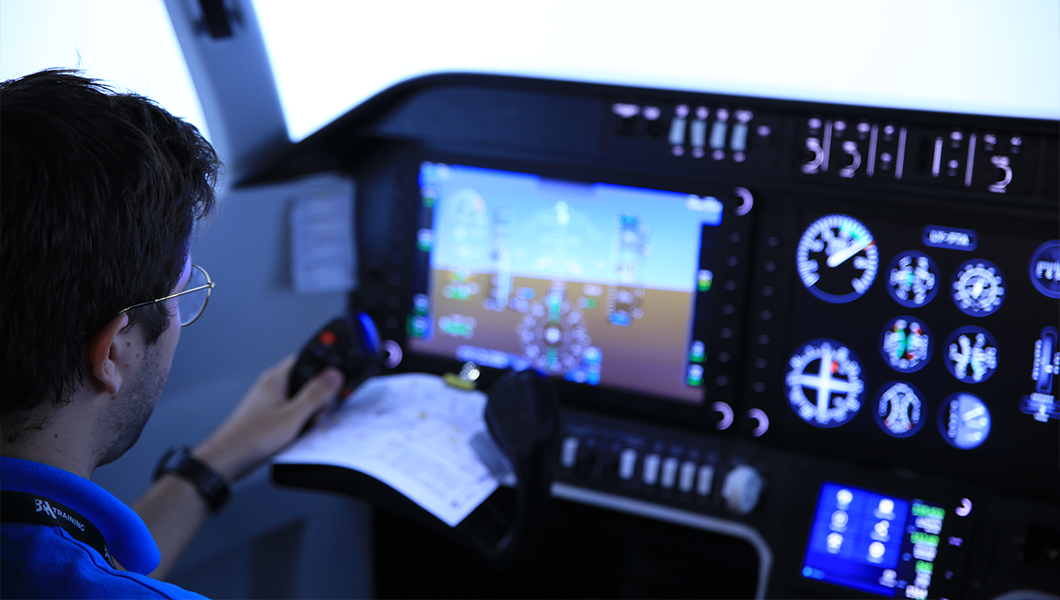 Career Advancement
The fact that there are not enough pilots also presents accelerated career advancement opportunities. As airlines strive to fill positions, motivated current airline pilots can progress through the ranks more swiftly, gaining valuable experience and assuming higher positions within flight operations. A regional airline may offer more frequent upgrades to higher positions, such as becoming a captain, due to its operational requirements and pilot supply-demand dynamics.
Competitive Salaries and Benefits of Airline Pilots
To attract more pilots, airlines have been offering more competitive salaries and benefits packages. This enhances the financial rewards and job security associated with a career as a pilot, making it an appealing choice for those considering this profession.
It is a normal practice that as the demand grows for airline and commercial pilots, the price increases, which is why the pilot salaries are affected by the pilot shortage. Oliver Wyman has estimated that there has been an 86% in regional airlines and a 35% increase in mainline pay. The graph below compares the figures when air travel collapsed due to covid-19 and current estimates.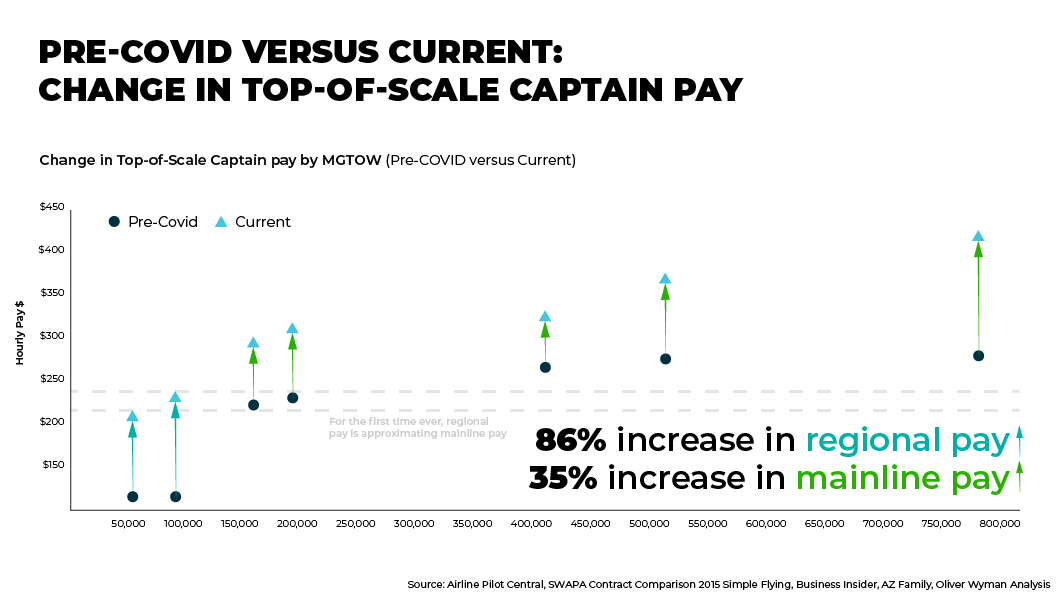 Conclusion
The pilot shortage experienced in 2023 is a multifaceted issue driven by increased air service demand, an aging pilot workforce, stringent training requirements, and more.
Regions such as North America, Asia-Pacific, and the Middle East are among those most impacted by the shortage. Still, Europe can also offer exciting opportunities for future pilots. With the noticeable trend of rising salaries and a growing demand for pilots, now is a great time to take the leap and pursue a career in aviation.