What is a commercial pilot license?
If you aim to become a pilot and get an airline job, a commercial pilot license is what you need. To get it, you must meet an hour requirement of 250 hours, including 100 hours of pilot-in-command flight time, 50 hours of cross-country flight time, and 10 hours of instrument training.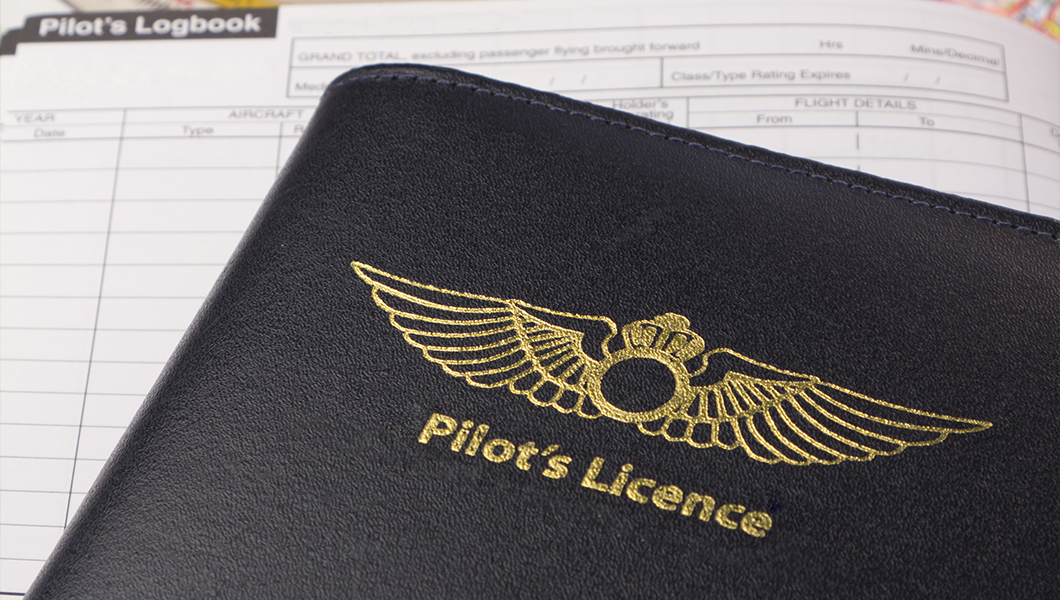 Where do commercial pilots work?
With a commercial pilot license, pilots can work in various industries, including airlines, corporate aviation, agriculture, and aerial photography. The commercial pilot license is necessary for those who want to pursue a career as a professional pilot, whether as a commercial airline pilot, a cargo pilot, or a charter pilot.
What is the commercial pilot license cost in Europe?
'How much does it cost to become a pilot' is a relatively common question, especially among our potential students. According to the European Aviation Safety Agency (EASA), the cost of training to obtain a CPL license in Europe can vary from country to country, ranging from €60,000 to €100,000.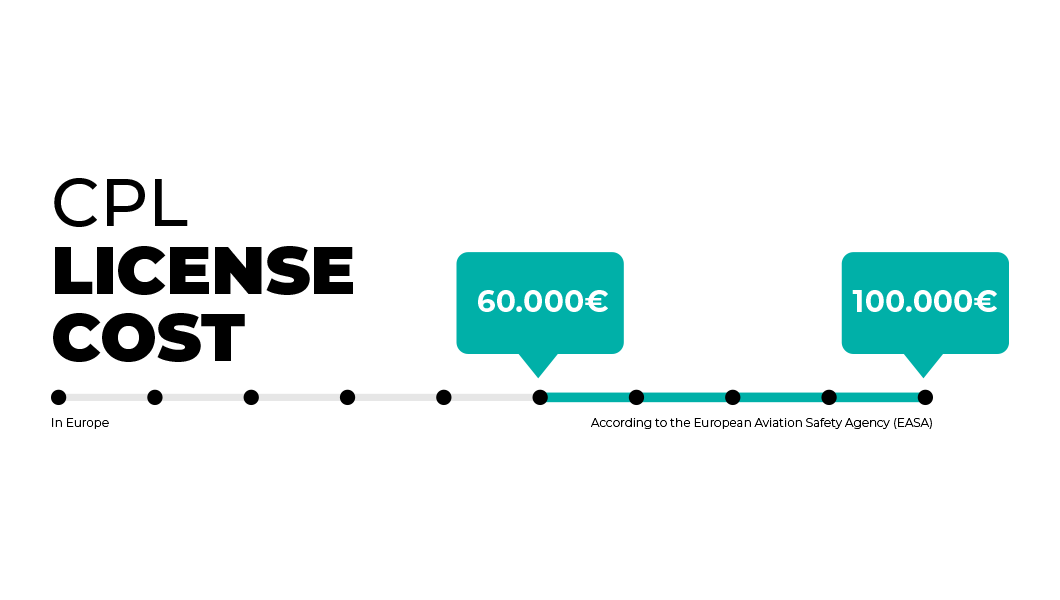 Why is the cost of a commercial pilot license so high?
The pilot training costs are indeed high, compared to the investment needed to acquire other professions. Flight lessons are one of the biggest expenses associated with receiving a pilot license. It requires a significant amount of time and resources and involves using expensive aircraft, fuel, and other equipment.
Aircraft maintenance and insurance
Airplanes used in training need to be maintained, which is one of the highest costs an airplane owner has to face. They also have to be insured, and the insurance for aircraft used for flight training is much more expensive than for aircraft being flown in a professional operation. Many flight schools also face an airplane rental rate as they rent their aircraft because they do not possess their own.
Fuel for aircraft
Fuel is another largest cost driver of flight training. The average fuel consumption rate for a Cessna 172 is around 8-10 gallons per hour (GPH), which translates to about 30-38 liters per hour (LPH). As of April 2023, the average cost of aviation fuel (Avgas) in Europe is around €2.50-€3.00 per liter. It means that the fuel cost for a Cessna 172 would be approximately €75-€114 per hour.
Flight instructor wages
Currently, there is a growing demand for flight instructors in many parts of the world, and it is expected to remain strong, which affects their salaries, and, consequently, the pilot training cost. By the way, a certified flight instructor role and a flight instructor certificate might be your next target.
Costs that follow after getting a commercial pilot license
When you finally become a commercial pilot certificate holder, future pilots must complete additional training before flying a large aircraft for compensation. These are Type Rating (a specialized training program required for pilots to operate a specific type of commercial aircraft, e.g., A320, B737, ATR 72, Embraer E-Jet, or other) and Base training (sort of a commercial flight test using a real plane in real-world conditions).
Type Rating costs in Europe
According to the European Aviation Safety Agency (EASA), the approximate costs of pilot training for A320, B737 or Embraer E-Jet Type Rating in Europe is around €16,000-€25,000, whereas ATR 72 is a less expensive option – from €12,000 to €20,000.
Base training costs in Europe
Base training costs range from €5,000 to €10,000 for the same types of aircraft mentioned above except for ATR 72, as its Base training is usually from €4,000 to €8,000.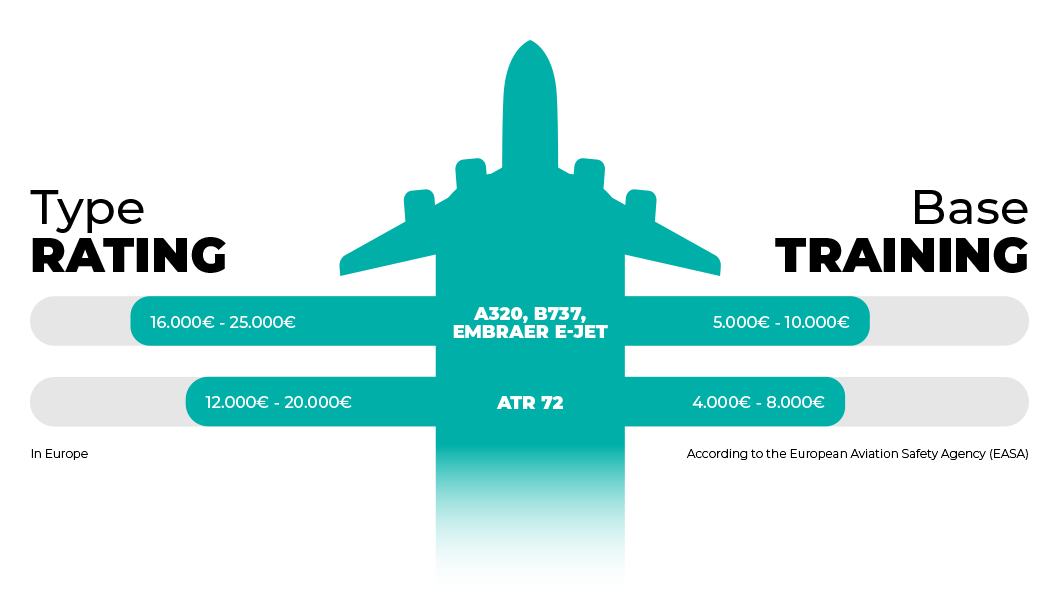 Other costs a future airline pilot faces
There are some eligibility requirements to meet before you can start accumulating your aviation skills. You should keep in mind these lead to additional costs.
Student pilot assessment
A flight school has to evaluate a candidate's pilot training fitness before enrolling them in a pilot training program. The assessment isn't free, and the fees vary depending on the flying school. At BAA Training, the assessment fee is €350, and the procedure is conducted via Aon Assessment Solutions.
Medical Examination
All pilots are required to have a medical examination to ensure they are fit to fly. The cost of the medical certificate can vary depending on the medical examiner and the location. If you complete your medical check at Aviamed in Lithuania, a 1st Class Medical Certificate (needed for commercial pilots) costs €331.50 EUR for men and €356.50 for women. Repeated checks are from €98.
Your
PILOT CAREER
starts with a first click
Sign up now
Exam Fees
Pilots must pass a written exam before obtaining a pilot license. The cost of the written exam varies depending on the license type and location. A Lithuanian Transport Competence Agency charges €42 for a written examination to obtain a CPL license.
Equipment
Pilots might be required to purchase equipment such as headsets, flight bags, and navigation tools. However, at BAA Training, all the extras, a uniform and study materials are included in the training price.
What is the cost of pilot courses at the BAA Training pilot academy?
At BAA Training, you can aim for a CPL license through ATPL Integrated or modular training (CPL Modular) for €70,000 or €75,000, respectively.
But these are not the only options. Alternatively, you can purchase a training package (ATPL Integrated plus Type Rating and Base training) and pay €90,000 for all. Similarly, you may choose to opt for a cadet program, which includes all the necessary training phases and a letter of intent to hire you from an airline for the same €90,000.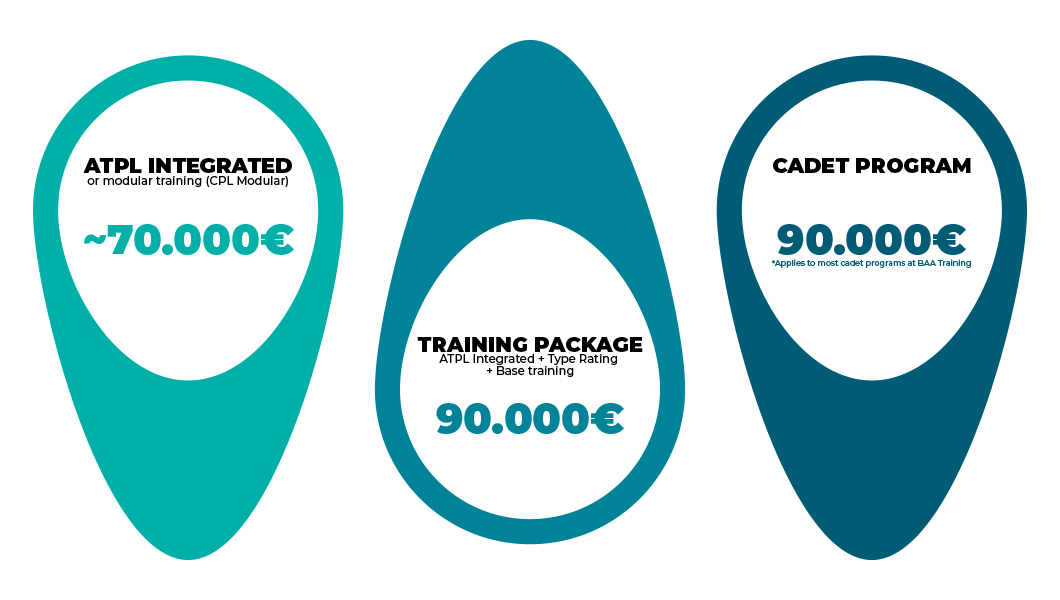 For more information about training courses, including the online ground school at our pilot academy and how much does it cost to become a pilot, please visit this page.
Even if your local flight school or some other aviation institution is able to offer lower prices, please keep in mind the training quality and the ability to prepare highly-competent airline pilots are what you should prioritize among other criteria when choosing your flight school.
Conclusion
In summary, commercial pilot training is an expensive undertaking, with flight training costs varying depending on many factors, such as aircraft type, location, and duration of training.
Generally speaking, trainee pilots should be ready to invest at least €100,000 (to cover initial training, type rating and base training). You might want to research different financing options, such as taking a bank loan or speaking to your relatives, which is what most pilots do. Or… Start small. A private pilot certificate costs a little over €10,000.
Although it is a lump sum not everyone can afford, you should remember that in the first 3 years of your First Officer's career, you will already recoup the investment and build a rewarding pilot career in commercial aviation with the potential for significant earnings over time. Hopefully, one day you will become a successful pilot working for some major airline!